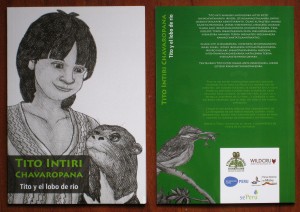 Tito intiri Chavaropana: a bilingual conservation education booklet, in Matsigenka and Spanish, for the Matsigenka communities in and around Manu. It is aimed at children but we hope it will appeal to all ages. The main protagonists are a Matsigenka boy acting as the voice of his community and a giant otter as flagship species of the aquatic environment in particular, and of Manu National Park as a whole. The story explores the worlds and perspectives of each, as well as key conservation issues, in a non-judgmental language and in an entertaining, highly visual way.
Reporte Manu 2013 – Pasión por la Investigación en la Amazonia Peruana: summarises the main findings of research carried out at Cocha Cashu and the wider Manu Biosphere Reserve, roughly since 2000, with sections on forest and aquatic ecology, fauna, and the human dimension (PDF, 9.7 MB).
Cocha Cashu publications updated 16-06-2015: a complete list of scientific publications resulting from research carried out in Cocha Cashu.