Station infrastructure and facilities 
On your way into the Station, you will pass the port adjacent to the Manu River, where there is a shelter for the storage of fuel cylinders, motors and equipment. Half a kilometer further, your first glimpse of the Station will be of modest, rustic, thatched-roof buildings in a forest clearing. This clearing (1650m²) contains the Main House on the left, which looks out over the lovely Cocha Cashu, a 24 hectare oxbow lake bursting with wildlife. A dock on the shore is used for bucket showers or for swimming/bathing (not after 6pm, and only within a distance of 20m from the dock!). However, the use of any kind of shampoo or soap is not permitted, to prevent contamination of lake water. For those who are cautious of the caiman and piranha, or who want to use shampoo etc. there are also normal showers.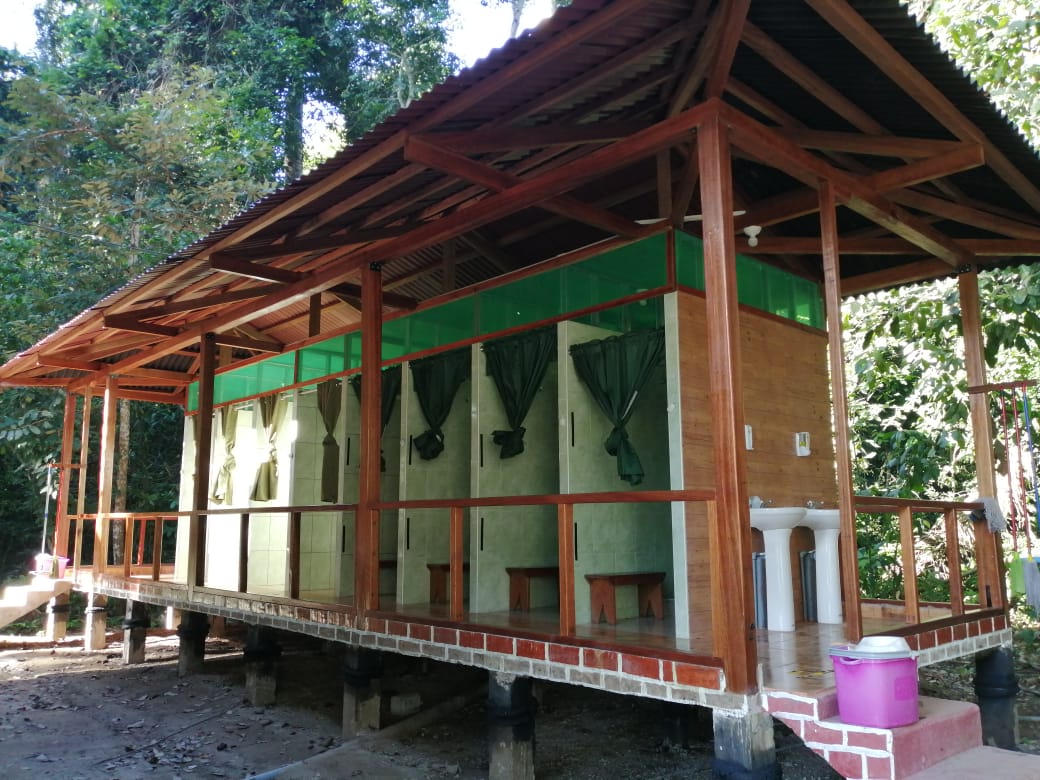 Clothing, personal washing items, and belongings of the researchers are stored inside the Main House. This building also houses the short wave radio. Adjacent is a small room for anyone who temporarily needs a bit of personal space. There is also a large area on the second story for relaxing or organised events.
In the clearing, there is also a metal water tower and a combined kitchen/dining building with a gas stove, tables, benches, and cooking paraphernalia, as well as plates, flatware and cups. We even have a fridge!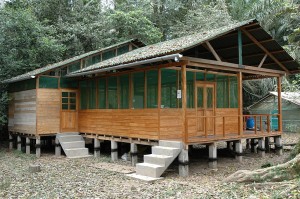 A double filtering system ensures that lake water is safe to drink. There is also a small, wooden, framed greenhouse, covered by netting for working with live plants and an open-air structure for drying herbarium specimens. The laundry space is near the dining building. There are also clothes-lines in front of the laundry space. The Station open area is served by a central system of showers and toilet facilities.
Laboratory space, offices, a variety of equipment, and maps of the trails are available for researchers. The "Francis Bossuyt Memorial" biological laboratory is situated in a separate clearing, 715m², and consists of six semi-independent offices (and storage space above), and accommodates a maximum of 10-12 principal researchers (the offices are shared). Three desks located in the main corridor of the laboratory are for the use of assistants. This main corridor is also used for seminar presentations and station meetings. In addition, the laboratory has a scientific library including in-house field guides to local plant and animal communities. There is a GILAT satellite antenna and two mobile platforms for solar panels. The lab looks over the lake and it is not unusual to see, from your little office, the resident family of giant otters passing by on their fishing rounds.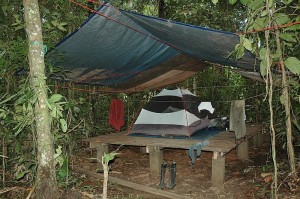 Visitors to Cocha Cashu sleep in tents that they install themselves on arrival in determined sites. There are 27 such camping areas, equipped with wooden platforms; these camping sites are not forest clearings and are therefore subject to the falling of trees and branches. This is potentially dangerous and researchers are warned of the risk although it should be said that no harm has befallen anyone so far. More than 50 km of well maintained trails facilitate access to any kind of habitat you could wish for.