Francis was born on April 28th1969, in Johannesburg, South Africa, where his Belgian parents had emigrated in 1967. Six years later, the family relocated to England where they lived for two years before returning to South Africa. Another couple of years later they moved back to England. By the time the family was relocated to the US in 1982, Francis and his older brother Stephen had been exposed to different cultures, lived and traveled to countries in Africa and Europe, and had friends of diverse ethnic backgrounds. The f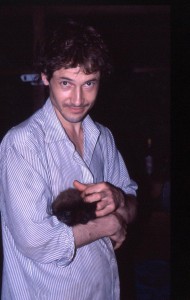 amily settled in Trumbull, Connecticut where Francis attended Trumbull High from which he graduated in 1986. By then, he had shown a keen interest in the Arts, taking classes in drawing and painting, and acquiring his first guitar. He also developed a love of nature and would go on hikes and bird-watching trips with his mother.
When he arrived at Earlham College in Indiana in the summer of 1986 he settled on a double major in Biology and Chemistry. He lived at the legendary "Farm" where he nurtured his strong sense of independence and where many lasting friendships were formed. He worked in the Biology Department as a teaching assistant, leading birding trips. He also supervised an educational project for 3-5 year olds at a nursery in Richmond and he trained for the Earlham triathlon which he completed twice. While at Earlham, he participated in an exchange program in Kenya, focusing on African wildlife and ecology and he also joined a field trip to Costa Rica. He spent the summer of 1989 at RISD (Rhode Island School of Design) considering whether to pursue Art or Biology (having a strong interest in both). In the spring of 1990 he graduated from Earlham with both Department and College honors.
His first job after college was as Research Assistant at the Fish and Wildlife Research Center in Anchorage Alaska, studying Emperor Geese. He was stationed on a remote island in the Thunder Bay Peninsula collecting data on the survival and migration patterns of the geese. After his project ended, he moved to San Francisco where, over the next four years, he worked at a center for severely disturbed children as an assistant counselor, creating an arts program for them. In his free time, he studied photography and took art classes at Berkeley. He played music and started a band with his friends. Yet, he missed the academic world and in the summer of 1994, he returned to school after enrolling at the University of UC Davis, choosing Animal Behavior as his major.
In the Primate Center laboratories of UC Davis, Francis worked with Titi monkeys but after a while found it frustrating not to be able to observe them in their natural habitat. That led him eventually to Cocha Cashu in June 1996. He was thrilled with the remoteness of the station and its pristine natural habitat and was convinced that this was the right place to conduct his research. However, within a month, he was called back home to attend the funeral of his dad who perished on the TWA flight that crashed off Long Island. To absorb the family tragedy, Francis temporarily suspended his studies. A year later he was back at Cocha Cashu with renewed energy and determination to complete his research. Grants from UC Davis, the Leakey Foundation and the National Science Foundation funded part of his research. By January 2000 he had collected enough data from his seven habituated group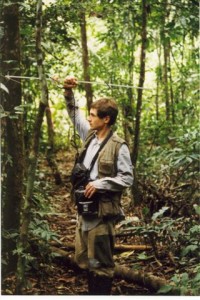 s to present his preliminary findings, titled "Natal dispersal and reproductive strategies in monogamous Callicebus monkeys", to his dissertation committee at UC Davis. Shortly thereafter he returned to Cashu Cashu for a final year of data collection.
On April 27, 2000, the night before his thirty-first birthday, Francis went swimming in the lake just before dinner after a hot sweaty day on the trails, but never returned. His mother's call to the station the following day to wish him a Happy Birthday came too late… For weeks afterward, groups of local guides searched the lake and the trails, looking for clues to what befell him that evening but nothing was ever found. The Peruvian authorities eventually presumed he was a victim of a mishap in the lake…
Francis is still sorely missed by his mother and brother, by his family in Belgium, and by his friends and colleagues. It is a consolation to know that he remains close to his beloved Titi's in one of the last unspoiled places on earth. He once wrote how much there was to learn from the Titi's and how they exemplified Love as having a basic biological origin, not reserved for Homo Sapiens alone. We are grateful that after a period of uncertainty, the fate of Cocha Cashu is now in the safe hands of San Diego Zoo Global. For us, it will always be a special place where Francis' spirit roams, and we hope it will remain a sanctuary for the many creatures who live and work there, who love and die there….
Myriam Bossuyt, January 17, 2012